The HI-FOG fire suppression system is core to the multistage fire safety systems in IXcellerate data centers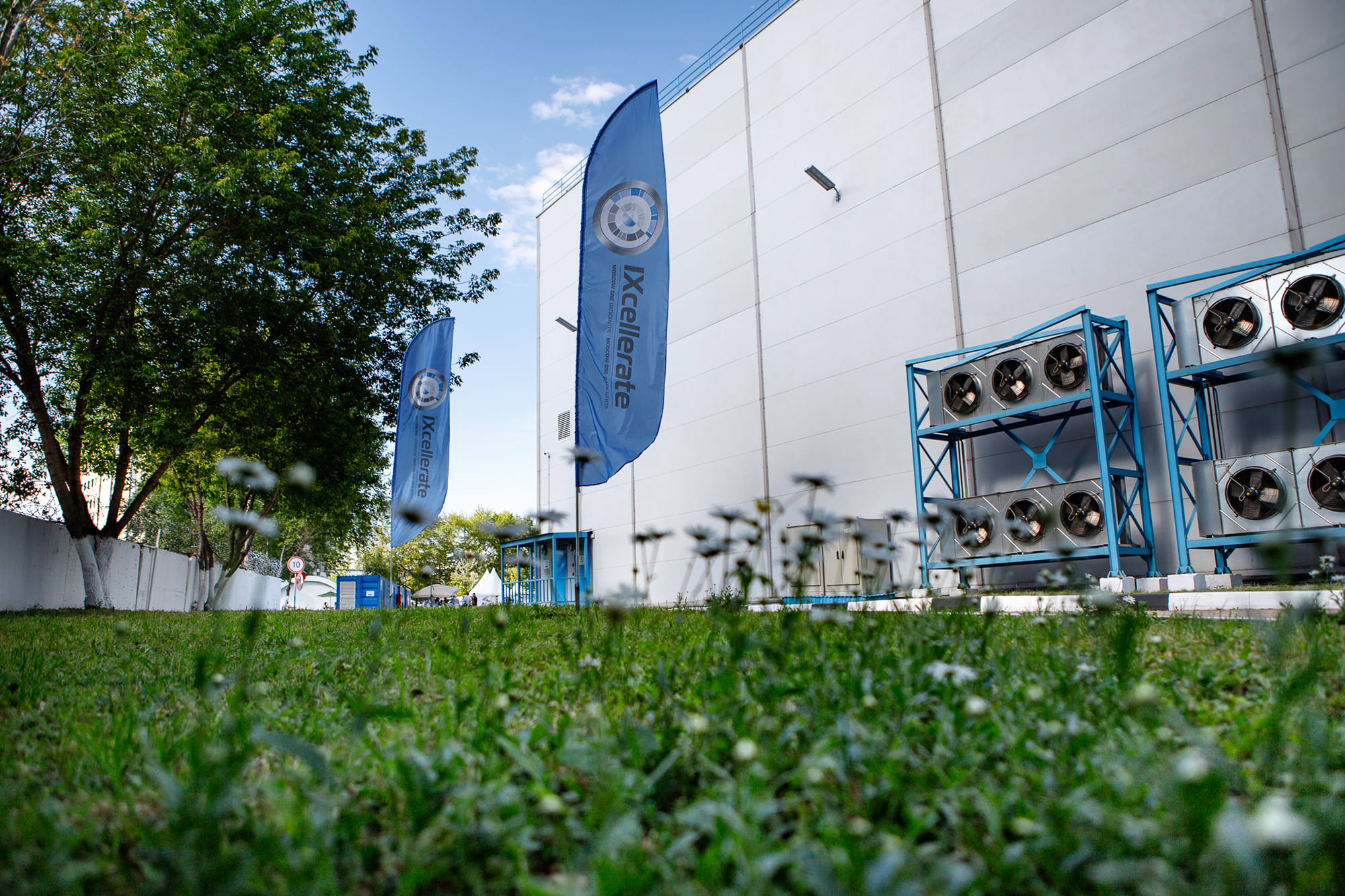 High Level Safety
IXcellerate is a leading operator of commercial data centers and one of the top three operators in Russia. The first data hall
– IXcellerate Moscow One – was commissioned in 2013 and has a rack capacity of 1,835 rack spaces. The second data center
– IXcellerate Moscow Two – started operating in 2019 with 1,480 rack spaces. Both data centers are neutral, fully certified by IBM and the Uptime Institute, and are rated Level 3/Tier III reliability. Service availability is guaranteed at 99.9%. All engineering systems of IXcellerate data centers are designed to provide increased reliability. Redundancy of external power supply inside the site, according to the "UPS + DGU" scheme, highly efficient UPSs with double conversion and modular design, and the use of modern lithium-ion batteries make it possible to guarantee a key parameter of data center reliability – power supply continuity. Cross-connection, neutral connection to any of 51 telecom operators and the use of two Meet-Me-Room technologies provide high connectivity. Systems of physical protection, intellectual security and technical support 24/7 insure against possible surprises.
However, not only can power outages, disconnections or hacker attacks interrupt the availability of services for data center customers. Fire is an extremely dangerous situation, rare but fraught with consequences. Capitoline specialists (capitoline.org) studied 219 cases of complete data center equipment failure with a total downtime of 2,074 hours. The average equipment downtime due to power failure is 6.5 hours. It is 16.7 hours of average equipment downtime due to software failures, 17.1 hours due to false alarms of fire extinguishing installations and 25 hours of average equipment downtime in instances of actual fire. Restoring a data center to normal operations after a fire is a difficult task.  According to the same study, most data centers do not have a plan for restoring performance during such a scenario.
Fire safety of IXcellerate Moscow One and Moscow Two data centers is ensured by a multistage system of measures that includes a careful selection of materials and equipment, engineering fire protection systems and organizational measures. Such an integrated approach allows you to respond to various scenarios quickly and efficiently, combining cost optimization and a high level of security.
HI-FOG, the Best Choice
HI-FOG®, a high-pressure water mist fire suppression system manufactured by Marioff, protects the buildings of IXcellerate data centers. Spraying water mist under high pressure combines the advantages of water and gas firefighting systems. High-speed jets release small water droplets to suppress the flame, mix the volume of the combustion zone saturating it with water vapor, rapidly cool the fire area, and bring the temperature in the protected room to a normal level. A thin layer of water mist in the air around the combustion zone blocks thermal radiation, protects nearby equipment and building structures from heating, and reliably stops the spread of fire. Water mist does not require space integrity, unlike gas systems, and provides reliable suppression at various air speeds.
Patented HI-FOG sprinklers are equipped with heat-sensitive bulbs that are activated at a certain temperature. This allows for water mist to be sprayed only where necessary, unlike gas systems that require filling the entire volume of a data hall with firefighting agent. IXcellerate Moscow One and Moscow Two data centers use the sprinkler-spray head configuration of the fire suppression system (double-interlock pre-action technology) that reduces false activation to almost zero. In standby mode, the pipework of the system is filled with compressed air and water is not supplied to the pipes. The control unit monitors the pressure of the compressed air in pipes connected to sprinklers that are locked by heat-sensitive bulbs. When a "Fire" signal is received from the fire alarm sensors, the control unit switches to standby mode, but water does not flow to the section. As soon as the first sprinkler – the one closest to the fire area – warms up to the set temperature, the bulb bursts, the air pressure in the pipeline drops, and the control unit opens water supply for fire suppression. A cloud of water mist will cover the ignition zone, smother the flame and block spreading of the fire, cooling the bulbs of nearby sprinklers. This minimizes the amount of sprayed water using it only where necessary.
Thus, the water feed requires two events to occur simultaneously: receiving the "Fire" signal from the fire detectors and heating of the sprinkler's bulb. This reduces the likelihood of false activation to almost zero. If a false signal is received from the fire detectors (due to electrical noise, dust or any other reason) – the HI-FOG fire suppression system will switch to "Fire" mode, but water mist will not be sprayed as the heat-sensitive bulbs of the sprinklers remain intact. The same works if a sprinkler bulb has been accidentally broken, for instance, during repair or installation work. The control unit will signal a drop in compressed air in the section, however, water supply to the pipes will be closed as the fire alarm has not given a "Fire" signal, so water mist will not be discharged
In addition to a highly sensitive intelligent fire alarm system and a highly reliable innovative HI-FOG  fire suppression system, data center premises are equipped with manual gas extinguishers that allow personnel arriving at the scene to extinguish fire in the initial phase of its development without shutting down operating equipment or fear of short circuits.
Customer Benefits
The correct selection of fire safety systems and organizational measures allows data centers to maximize the benefits of modern technologies while compensating for their possible weaknesses. Reliability, safety, economic considerations as well as advantages for data center customers are important in the decision-making process when considering fire protection. In particular, the use of a high-pressure water mist fire suppression system instead of gas firefighting system made it possible to opt out of dividing data halls into several isolated rooms. As a result, this helped to increase the number of rack spaces located in two data centers by almost 400 rack spaces while reducing capital costs for construction work and engineering systems. Another operational advantage becomes key for a neutral data center operating according to the "colocation" service provider concept. The vast area of a data hall allows customers to place their equipment where needed, fencing the required area with temporary portable room dividers and equipping it with access control, video monitoring and other systems upon request of the customer. This advantage has become key when hosting large customers, while at the same time, this solution is flexible, allowing data centers to change the configuration of a data hall quickly and at a reasonable price, if needed, adapting it to the requirements of new customers.
The high-performance characteristics of the HI-FOG fire suppression system make it possible to optimize its maintenance. The system does not require regular replacement of the extinguishing agent, recharging after operation is a minimal cost, and the estimated life cycle of the system exceeds 40 years. Pipelines and fittings made of high-quality stainless steel, specially designed pumps and reliable threaded connections allow minimizing labor costs for maintenance, while ensuring high reliability for decades. With the expansion of operational capacities in the new IXcellerate Moscow Three and Moscow Four data centers, both plan to apply the same reliable and proven technical solutions for fire protection. The cooperation between IXcellerate and Marioff continues, with the common goal of fire safety and security of our customers' business.
For more information about Marioff and HI-FOG, visit marioff.com.